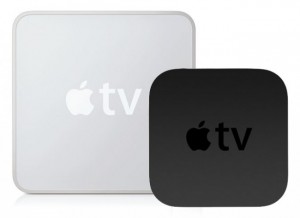 The error: Your Apple TV is not authorized to play this content
here's the problem: When trying to play TV show or Films on your AppleTV originally downloaded from your Mac then synced to the Apple TV you get "Your Apple TV is not authorized to play this content."
Solution: purchase a single TV show or preferably a free TV show directly on the Apple TV. This alone should re-establish the authorization link to iTunes.
This problem seems to have started around October 28 2011, it appears to affect content purchased only on other devices but played on the Apple TV 1.
There have been other workarounds suggested from time to time, the simplest solution is to purchase something on the Apple TV 1 directly (There may be free content in some locations and this appears to work just as well).
Once the content has been purchased, it will not only play as normal, but will also allow all other content purchased on other devices after October 28 to play as well.
Some have reported that it's necessary to restart the Apple TV before and/or after purchase
Not solved your problem? try these other sites:
What is Apple TV?
The entertainment you love. At your command.
Apple TV gives you access to tons of great HD content in a tiny package. Enjoy blockbuster movies, TV shows, live sports and news, your music, photos, and more — right on your high-definition TV. You can even play content from your iOS devices or Mac on your TV using AirPlay.
What's on Apple TV?
Make any time prime time.
Choose from thousands of blockbuster movies and the latest TV shows in addition to classic films and shows from iTunes — many in stunning 1080p HD. Get great bonus content like behind-the-scenes footage, cast and crew interviews, and deleted scenes on HD movies1with iTunes Extras. And access content from Netflix, Hulu Plus, YouTube, HBO GO, SHOWTIME ANYTIME, WatchESPN, and more.
AirPlay.
Play content from your iPhone, iPad, iPod touch, or Mac on your HDTV.
Wirelessly play video, show off photos, and enjoy music and more from your iOS devices or Mac on your HDTV and home entertainment system.2 And with peer-to-peer AirPlay, guests can wirelessly and quickly connect to your Apple TV without being on the same network or signing in with a password.