The issue: Your startup disk is full.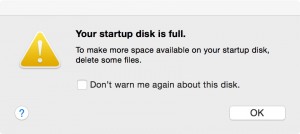 To make more space available on your startup disk, delete some files. If you're sure that your disk has enough space and the space reappears after a reboot – most likely cause is you don't have enough RAM, have to many Applications open at the same time or one of your applications has a memory leak. Try updating all software and using Activity Monitor to figure out which process is eating up the disk space.
Another possible culprit is Time Machine:
Time Machine includes a feature called "local snapshots" in OS X Lion and later. This feature keeps copies of files you create, modify or delete on your internal disk when your backup drive is not available.
Checking free disk space
You can see how much space is being used by local snapshots from the "About This Mac" window.
Select About This Mac from the Apple menu.
Click the More Info button in the window that appears.
Click the Storage tab to see available and used disk space.
The space used by local snapshots is labeled as Backups.
A recent post on Apple support communities, titled, "Guide: How to solve Yosemite memory leaks and CPU usage" looks promising as a possible solution to this issue: